We accumulated a lot of bread loaves and not very much snow this Christmas. In fact, it did not snow until three days after Christmas, and it was not until very late at night at that. Meanwhile, the artisanal bakery bread was getting crusty.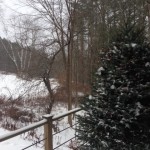 For each dinner, another loaf landed on the kitchen island and yet not much was eaten because we were enjoying cheese and crackers before dinner and then plenty of options on our dinner plates. The bread was getting lonely.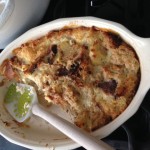 We decided we should try a French toast casserole and started looking up recipes online. Our intent was to soak the bread in the French toast egg and cream mixture overnight, per most recipes. We enjoyed a lot of company for dinner, binge watched Death in Paradise mystery episodes and totally forgot to soak the bread. The snow and sleet came down all night as we slept, bringing us, belatedly, the winter wonderland. This morning, I tackled the bread, breaking it down with a knife and my hands to fill a bowl with about 3 cups of bread chunks. Turns out, it did not matter at all that the bread was not soaked. Then, I melted about a tablespoon butter in a casserole dish. Next, I sprinkled that with a couple of teaspoons of light brown sugar. Setting aside the dish, I whisked three eggs with a few dashes of vanilla extract and ground cinnamon. I measured in two cups of milk and a cup of half-and-half cream. Finally, I placed the bread into the buttered and sugared casserole dish and poured the egg and milk mixture over it. The dish went into a 400-degree oven for 45 minutes. I had checked it after a half-hour and it looked firmed up around now softened bread chunks. I put it back in for the next 15 minutes to brown and it had a bubbling liquid percolating within the nooks. We let it rest about 10 minutes and dug in. This was absolutely delicious with maple syrup. I plan to make this again very soon for a New Year's brunch.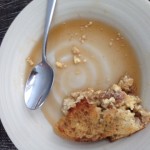 Ingredients: stale bread, butter, brown sugar, eggs, milk, cream, vanilla and cinnamon. Plus, maple syrup.