A friend gave me a prize: a bottle of his secret Buffalo wing sauce. I do love the taste of chicken cooked with a delectable glaze of Buffalo wing sauce.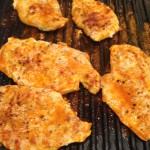 I just don't like having to work so much to get the meat off the wing. Same goes with eating crawfish. It's a lot of messy work. Out came the secret sauce bottle and chicken breast cutlets. Call me prissy, but it was rather simple to grill the cutlets on the raclette grill. Once a side was browned with grill marks, I flipped the meat and brushed on a layer of Buffalo sauce. Once the other side was browned, I repeated with a flip and baste. At the same time, on the flat top side of the raclette grill, I cooked up zucchini slices, asparagus and sliced red cabbage.
I sprinkled some seasoning on the veggies as they cooked. Now, Buffalo chicken cries out for blue cheese or ranch dressing. We prefer a blue cheese Greek yogurt dressing. To engage the dressing, I toasted some whole wheat bolillos. To serve, spread the dressing on the toasted bread. I placed a chicken cutlet atop a bolillo half for an open-faced sandwich and ate it with a knife and fork.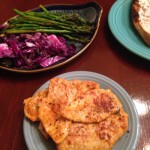 The veggies were an outstanding complement. The best thing was the simplicity: no brining wings, no plastic bags, no baking or outdoor grilling. It just all came together on the electric raclette grill, indoors. The non-stick aluminum grill top just washed off in the sink with warm water, a little soap and a brush. That was it. Enjoy!