Ever been to a party where more than one guest is face planted in a smart phone? You may have even seen an array of people assembled at a party and almost everyone is looking down at their phones, scrolling with one hand and drink in the other. I just hosted a party that would have been device free except for the guests taking pictures of dinner because they were having fun making it. We all cooked dinner together on raclette grills.
This tradition stems from Europe, but we made it our own with Gulf shrimp, Atlantic salmon and chicken, which we seasoned with Velata spice rubs. The shrimp cooked in the little raclette pans under the grill. We also grilled veggies on the granite grill top. I used to host parties by cooking a main dish and several sides. This would take me a few hours ahead of time, at least. Then, the challenge was figuring out how to keep things warm to serve to guests at exactly the same time or worry that buffet options were getting cold.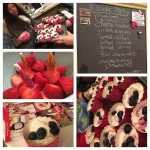 With a raclette meal, guests pick what they want to put on the grill, start cooking and pulling the food straight from the grill. This action creates immediate mingling and chatting among guests who did not previously know each other. Seeing my guests relaxed and interacting makes me feel good as hostess. I also know they are really enjoying their food. Once everyone was munching on the meat, fish and veggies, which included asparagus, zucchini and red peppers, I got the crepe maker going. That too encouraged participation as guests took turns making the crepes.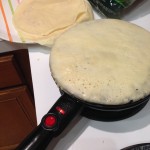 We drizzled crepes with raspberry syrup and guests chose how to eat them: savory with chicken or sweet with melted chocolate from a fondue pot. The only things I prepared ahead of time were the mini cheesecakes. There are a lot of options for a raclette menu to get your guests engaged at the party.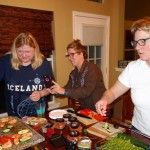 You could serve fajitas/tacos, Korean BBQ or a Mediterranean mixed grill. I wanted the guests to taste Velata ingredients as well as enjoy the Velata cookware. The mini cheesecakes were mixed with Velata No Bake Cheesecake. I prepared the Classic flavor, but Velata also makes Key Lime and Caramel Apple No Bake Cheesecake.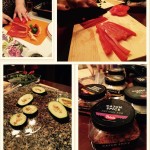 The grocery list was simple: fish, meat, strawberries, blueberries, bell pepper, asparagus, spinach, and Velata cheese dip for the fondue, Velata Premium Belgian chocolate for fondue, Velata crepe mix, Velata Raspberry syrup and Velata spice rubs. What I liked best about this party was being able to focus all my energy on enjoying the guests' company instead of being stuck in the kitchen alone, worrying about pots and pans. At one point, a colander came out of the cabinet, but it was a fashion accessory.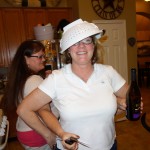 Admittedly, there have been times when I felt exhausted by hosting a party because of the work that went into preparations. Or, I worried if guests got to know each other. The raclette grill party alleviated both of those issues. We cooked and chatted together the whole time. My voice was hoarse from talking to all the guests. It was really so nice to just enjoy our guests and know they were enjoying each other, the grilling and the food.
If you want to know more about hosting a Velata tasting party, contact me at thesageleopard@gmail.com.
Bon Appetit.