Every time we go to our neighborhood Mexican restaurant, I order their desebrada, a shredded beef stewed in tomatoes and spices. Well, it tastes and looks like tomato. I order this for dinner as well as breakfast (Texas is the land of breakfast tacos). The beef tastes amazing cradled in soft tacos. I keep saying I will try to make this at home. Why put off today for another day and another day, etc.? Desebrada is traditionally made with goat meat. I've opted for chuck beef, which is shoulder meat.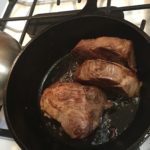 Before I get to the ingredients and recipe steps, I want to stress the importance of the right equipment. For this recipe, I have a cast-iron skillet and a crock pot slow cooker. In lieu of a skillet, I recommend a Dutch oven to sear the meat. While you're cooking, you can sing out "Desebrada" to the tune of "Desperado!" (my boyfriend's idea).
Ingredients:
2.5 pound chuck roast
1 can Rotel
1 cup red wine
3-4 cloves of garlic
2-3 jalapeños
1-2 bay leaves
1 Texas sweet onion
chili power, cumin, salt and pepper
freshly chopped cilantro
Optional garnishes/sides: homemade coleslaw (just mix mayo, lime juice and Rice wine vinegar and toss in a bag of shredded cabbage); avocado; shredded cheese; sour cream, jalapeños (freshly sliced or pickled) and hot sauce
Directions: Heat vegetable oil in big skillet over medium-high heat. Start prepping non-meat ingredients. Peel and smash garlic on cutting board with French chef knife. Place in slow cooker. Peel, slice and chop onion and place in cooker. Drop in a bay leaf or two. Put on gloves and cut, core, slice and dice the jalapeños. Place diced pepper in the cooker. Added a teaspoon each of chili pepper and cumin. Freshly grind salt and pepper over the rest of the ingredients in the cooker. Now, remove meat from package and place in hot skillet with oil. Brown it all the way around. You might have to cut it into two or three pieces to easily move it around in the skillet and prepare to fit with the other ingredients in the slow cooker. When browned, place it in the cooker and pour over it the wine and Rotel. Sprinkle a hearty handful of chopped cilantro over it and cover the cooker.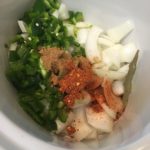 Turn to high heat. Once it is hot, lower to the low setting and let it slow cook for about 8 hours. Check on it every few hours and after 8 or so hours, see if it pulls apart with a fork. If so, turn off heat and let temperature drop to a level you can stand while shredding the meat into the sauce. I used a dinner fork and a spatula. Now, you can serve it all at once or freeze some portions for a savory and satisfying weeknight dinner. This shredded meat is perfect for tacos. You'll want to serve it with more fresh chopped cilantro, sliced jalapeños, fresh lime, shredded Mexican cheese, perhaps a dollop of sour cream, hot sauce, etc. Maybe some sliced bell peppers and rice.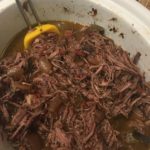 The list goes on. Get creative. There is a lot you can do with this meat, including putting it in a casserole or mac-n-cheese. For us, tacos are in order, maybe even for breakfast.
Cheers,
The Sage Leopard