I rushed to answer the front door with my hair rolled up in curlers. My friend greeted me wearing white gloves, a straw hat and a bright dress with a petticoat. She graciously handed me a hostess gift, a miniature rose plant. I was actually ready for the party in my hair rollers because it was a Steel Magnolias theme party and I looked like I might just be sitting at Truvy's beauty parlor. The movie was playing on the living room TV and all the guests knew all the lines.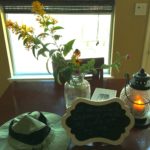 As for the food, we do have boudin in the freezer from a recent trip through Louisiana, but I am not a Cajun cook and felt I'm not ready for that challenge. Opting to stay in the South for the menu planning, I pulled out my copy of the Best of the Best from Georgia Cookbook. I came up with this game plan:
Chicken Savannah – breaded chicken breast baked with new potatoes, mushrooms and artichokes with a cream sauce
Vidalia Sweet Onion Appetizer – chopped Vidalia onion dip baked in a pie dish with shredded Swiss cheese and a little mayonnaise. Baked until bubbly and served with Ritz crackers.
Watermelon Fire and Ice Salsa – this may just be better than tomato salsa. It was served with chili lime tortilla chips.
Buckhead Rice – casserole baked with cooked rice, egg, milk, Cheddar cheese, a package of frozen spinach, chopped onion, Worcestershire sauce, and dried marjoram, thyme and rosemary.

Pull recipes from the same cookbook for a unified theme for a party menu.

Buttermilk Bowtie Pasta Salad – I actually forgot to serve this! I've previously paired it with burgers and love the black beans, bell peppers and cilantro in the buttermilk lime dressing.
The guests brought cornbread, a shrimp-avocado-tomato salad, cherry Bourbon and Coke, a fruit Chantilly cake, and a Hummingbird cake.
The cakes were my favorite food of the night. My friend baked the Southern Living Hummingbird Cake and the combination of pineapple and banana is perfect. I'm inspired to bake on of my own before too long. It looks similar to carrot cake but tastes oh so much better.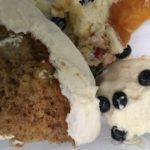 The best part of the party was the company. One friend brought a neighbor, which is such a fun way to meet new people. Always suggest your guests bring a friend you don't yet know. Someone asked about the hand-painted Magnolia House sign over the stove. We explained I made it to celebrate all the magnolia trees around the house. There are two huge ones in front, along with a tulip magnolia. Plus there is a little gem magnolia, a D.D. Blanchard magnolia and another tulip magnolia in the back. After the movie, we walked around the yard to show guests the trees and other plants.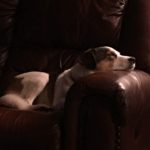 We had to wait until twilight when the sun is not as wilting as during a southeast Texas summer afternoon. The heat, in fact, inspired the whole idea of a movie watch party. Bring your guests over for a watch party to enjoy each other in the A/C, catch up and say movie lines together. If you don't have anything nice to say, come sit by me.
Cheers,