Here's the first thing you need to know about scalloped potatoes: they need time to bake. I forgot I was assigned to make the scalloped potatoes for Christmas Eve dinner and had to finish them in the microwave.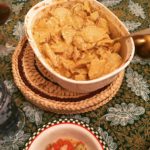 I mistakenly estimated they only needed an hour in a 375-degree oven. Next time, I will par-cook the potato slices in the microwave.
Ingredients:
4 large russet potatoes, thinly sliced, skin on
1 ½ – 2 cups cream
3-4 cloves garlic
1 large sweet onion.
Cup of white wine
Spices: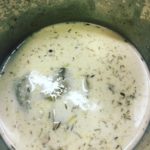 Rubbed sage
white pepper
paprika
Bay leaves
Nutmeg
Black pepper
Garlic powder
Directions:
How do you make scalloped potatoes lickity-split? We were driving back to the house on Christmas Eve after an afternoon of shopping, blasting Let's Go Crazy and enjoying quality time among siblings and loved ones. My boyfriend's brother-in-law reminded me I was expected to make scalloped potatoes for dinner. Guess what? I've never made them. So what?
Stop thinking you need to plan a menu, even a holiday menu, weeks in advance. I had the basic ingredients: potatoes, onions, cream and shredded cheese.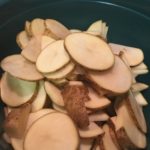 Cut potatoes into halves, lengthwise. Then, thinly slice them. Place slices in greased casserole dish (try olive oil spray) and cook in microwave on the potatoes setting. Take them out a few minutes early so they are cooked, but remain firm, not mush.
Meanwhile, sauté garlic and onions in a large saucepan with butter and/or olive oil. Add pinches and sprinkles of spices. Once onion and garlic is turning golden brown, pour in white wine to deglaze pan. Stir in cream and add 2-3 bay leaves. Let simmer while you arrange the potatoes in pretty rows or formation in the casserole dish with cheese.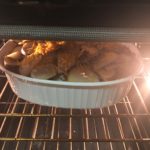 You may want to re-grease the dish before adding shredded cheese. Then, pour cream and onion mixture into the casserole dish over the potatoes. Bake at 375 for 30 minutes. Test with fork. If potatoes are soft, you are good to go. If not, try more time in 15 minute increments. This will depend on the size and density of the potatoes. Ideally, make this in the afternoon before a dinner gathering.
Cheers,