Coordinating schedules among households for family gatherings has been a jumble until I asked myself why we default to weekend BBQs. Why not brunch? Turned out, the families were all available for a 10 a.m. gathering.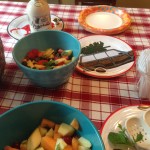 Menu planning for a brunch buffet relieved me of worrying about how to get a whole bunch of hot food, e.g., grilled meats, to the table at the same time. Instead, the warm foods were an apple pie, a French toast casserole prepared the night before and some cinnamon rolls popped out of a can.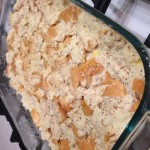 A few minutes before guests were expected, we placed maple turkey bacon and real bacon on the raclette grill. The anchors of the buffet were two different fruit salads. One is my classic standby that is typically in the fridge (and easy to pack for lunches): strawberry, pineapple and blueberry. The other comprised chunks of peeled, Golden Delicious apple, red seedless grapes, cantaloupe chunks, kiwi slices and mint (adopted and corrupted from a Food 52 recipe with similar ingredients). I placed mint atop the berry pineapple salad too. Out came a jug of real Vermont maple syrup and we were all set. I basically poured a cup of coffee, sat back and relaxed watching everyone dig in at their own pace.