Why buy chicken salad from the store when it is easy to make it yourself? When it comes to anything with mayonnaise, such as tuna or chicken salad and potato salads, I prefer to make it myself. This chicken salad recipe incorporates something from our garden: Meyer lemon juice.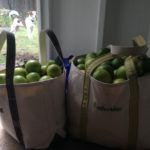 When the lemons are ready, we are overwhelmed with lemons. I give many away and am still overstocked. The solution is to squeeze most of them and freeze the juice in small containers. This way, I have a year-round supply of Meyer lemon juice. And a lot of it. Here are the basic ingredients, to which you can add or subtract. (For instance, some people cannot eat raw red onion.)
1 cup Meyer lemon juice
three chicken breasts
celery (a few stalks for the poaching liquid & a few for the salad)
spices for poaching liquid: handful of pink peppercorns, handful of dried thyme, a bay leaf or two. Anything else you like.
1/4 cup red onion, diced
2 tablespoons (at least) of chopped, fresh parsley
Mayonnaise (I prefer Duke's or Blue Plate)
Tabasco sauce
tablespoon or two of fresh Meyer lemon juice
salt and pepper, to taste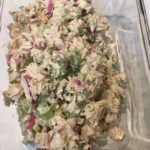 To Make: First of all, I don't do everything at once. For example, I was hosting a ladies lunch on a Saturday, so I poached the chicken Friday night and put it in the fridge overnight. In the morning, I placed the cooked chicken on a cutting board and sliced, then diced it before placing in a large mixing bowl. To get started, fill a large pot about two-thirds. Pour in lemon juice and add celery, bay leaves and spices. Bring to a boil and place chicken breasts into the rolling boil. Keep it relatively high heat and cook for 3-5 minutes. Turn off the heat, cover and let sit for 15 minutes. Then, remove the chicken with tongs and place in a Tupperware or similar storage container and place in fridge overnight. Discard celery and bay leaves, and pour spicy, lemon water down drain. It may even deodorize your disposal! When you are ready to make the chicken salad, place the diced chicken in the bowl and add the diced red onion, freshly diced celery stalks and freshly chopped parsley. Place about a tablespoon of Dijon mustard in the bowl and about a quarter-cup of mayonnaise. Sprinkle or grind on salt and pepper. Stir it all together with a big spatula until really well combined. Cover bowl and let it sit in the refrigerator for a few hours before serving. The serving options are endless. I baked crescent rolls and also had a loaf of store-bought Sourdough bread on hand. The guests were choosing both options. The other fun thing about chicken salad is you can add or substitute ingredients, such as slivered almonds and/or red grape halves. A wonderful accompaniment to chicken salad sandwiches is fruit salad.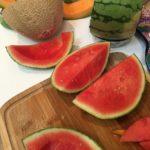 For this ladies lunch, I served two different fruit salads: one was watermelon, pineapple and cantaloupe, and the second one was raspberries, strawberries and blueberries. Rather than put all the fruits in one bowl, I gave the option for the guests of taking either or both. Some people cannot eat seeds, so you want to keep certain berries out of the fruit salad. Another nice thing to serve at a gathering like this is pasta salad.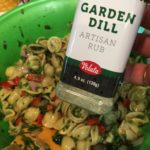 I had made one the night before with orecchiette (little round pasta), chopped arugula, diced red pepper and a dressing that was half Meyer lemon juice and half olive oil. The added special ingredient was a garden dill artisan spice mix. It tasted great the next day. I love entertaining by giving my guests delicious, fresh and colorful foods. I also love being able to do so in a way that doesn't involve extensive work. Instead, we got to enjoy girls time, eat yummy food and drink Prosecco! I hope you like the Meyer lemon juice poaching idea and the ease of this chicken salad recipe.
Cheers,