Preparing to stay in on a cold winter night, you may opt to make a vat of soup and bake bread. Or, you could grill veggies. That's right, I said grill. In wintertime. A raclette grill fits that bill perfectly.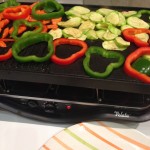 It's electric and sits on your table or countertop while it works its magic on vegetables, meats or fish. There is no smoke, no fire, no standing outside in inclement weather. You and yours can sit around the grill enjoying toasty food, together, indoors. I once saw my brother-in-law head out to a snowy deck during a New England blizzard to grill meat. Let's just say that is commendable, but totally unnecessary.
The convenience with the raclette grill means I can place ingredients on the non-stick grill top (or granite top) and walk away. I'm a multi-tasker and may be doing laundry, working up a spreadsheet or playing with my dog while cooking. I have yet to experience burned food on the raclette. The closest I came to burning something was some liquefied cheese in a raclette pan (little cooking dishes for cheese or small pieces of food, such as shrimp).
Our first raclette grill experience combined veggies, cheese and sausage. I browned the sausages all the way around, then split them to cook in lengthwise halves. I've also cooked hamburgers, chicken fajitas, chicken cutlets, pork cutlets and fish on the raclette grill. The joy of this is akin to that of making a one-pot dish. There is only one think to clean and this cooking surface just wipes down in the sink.
If you must bake a casserole to combat the chill, consider the ease of using a cheese dip. I took leftover rice, added the cheese dip, a can of celery soup, a can of diced chiles and freshly diced tomatoes. After a half-hour at 375 degrees, we had a perfect cheesy rice casserole.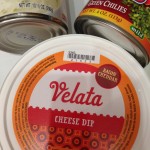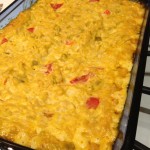 If you find yourself cooped up this winter, dreaming of a mixed grill meal with fresh veggies, oozy cheese and delicious meats, then why not adopt the raclette lifestyle?