This biog often extols the virtues of venison as a lean, healthy meat, but there's one thing it cannot do alone: be a burger.
For that, you need to blend the ground venison with another meat. I have previously tried to bind ground venison into burgers using beaten eggs, but they fell apart while cooking.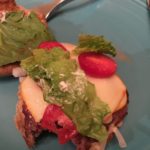 For our first foray into mixing ground venison, we opted for ground beef chuck with a 85/15 ratio for added fat. As for the amounts of each meat, I just used 1 pound venison to 1 pound chuck. In a large mixing bowl, I combined the meats with a single beaten egg, 2 tablespoons truffle oil, a sprinkle of dried thyme and a combination of garlic salt, onion salt, Cajun seasoning and black pepper. I had wanted to add Worcestershire sauce, but did not realize it was hiding in the refrigerator.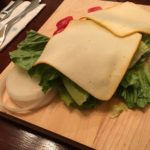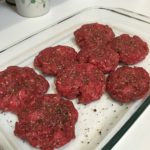 To make the blending easier, whisk the egg separately, then pour over ground meat. Mix everything together with your hands. Form patties and place them on a casserole dish. Disclaimer: I cannot tell you exactly how my boyfriend grilled them to perfection because this task was performed outside while I prepared a green bean salad. As for the green bean salad, this is a classic cold salad with red wine vinegar. Trim the ends of your green beans and cook them, either by steaming in a pot or nuking them. I did the latter, and followed the instructions on the bag for the beans. You want them to be cooked, but retaining a little crisp bite. While the beans are cooking, peel and dice 2-4 cloves of garlic.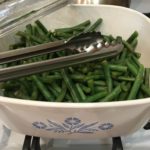 Once the beans are done, placed them in a covered dish with the garlic and an ample dousing of vinegar. Keep covered in fridge. This green bean salad can last for days and only gets better on day 2 and 3. Another complementary side for burgers is a classic: pasta salad. This is buttermilk bowtie pasta black bean salad offers a nice tang and is supremely simple to make.
INGREDIENTS
Half a box of mini bowtie pasta
1 can Bush's black beans
Half a large red bell pepper
3-4 green onions
Huge handful fresh cilantro
One lemon, two limes
Cup of buttermilk
Couple tablespoons mayo
Heaping tablespoon Dijon mustard
Cajun seasoning, fresh ground black pepper and pink salt
Cook pasta according to box directions. Chop pepper, green onion and cilantro. Then, mix buttermilk, mayo, mustard and citrus juices and set aside. Drain cooked pasta and place bowties back in pasta pot. Drain black beans in the same colander. Put everything in the pot and stir. Season to taste.
What is best about this style of cooking, besides the amazing flavors, is how relaxing it is to prepare. After dinner, we can curl up on the couch and watch the dog watch for possums. The possums walk (or run) atop the back fence almost every night, providing entertainment for The Sage Leopard.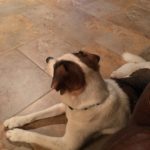 After all, he needed a distraction from the wafting scent of venison-beef burgers. Please enjoy the recipe and your evenings too.
Cheers,
The Sage Leopard