After venison steaks on Sunday and venison sausage on Monday, grilled chicken was up tonight. We tend to have a protein rotation of venison, chicken and salmon, the latter two I like to cook on a raclette grill. Before I regale you with the wonders of raclette grilling, I want to introduce you to Chef Mike. Chef Mike makes really outstanding food in homes, restaurants and just about anywhere you can find a plug. Chef Mike, a.k.a., the microwave, is perfect for baked potatoes. For tonight's dinner, there were only two cooking appliances: Chef Mike and the raclette grill.
On the menu: baked potatoes (courtesy of Chef Mike) with tzatziki sauce (courtesy of a herb mix), and grilled asparagus, squash, chicken and cheese. The cheese was melted in raclette pans, which are nonstick and easily slide under the griddle for light broiling. The beauty of the raclette grill is that the nonstick griddle top conveys the right amount of heat to cook the food without burning it. So, I was able to walk out into the backyard a couple of times to chat with my boyfriend. Raclette grills harken back to a European sensibility of gathering people around a table with wine and cheese, meats and bread, and veggies. Everyone places what they want to eat on the grill and the raclette cheese (a type of Swiss) is melted to go with the all the other ingredients.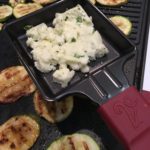 We've adopted the raclette as an easy alternative to firing up the oven and getting a bunch of pots and pans dirty. Instead, I turn on the electric grill atop the kitchen counter, spritz on some olive oil spray and get grilling. Veggie slices, asparagus spears and meat. For meat, you want to use thinly sliced or pounded out cutlets. Fish cooks just fine. Shrimp cooks perfectly. I like that I can place food on the nonstick grill and walk away to get something or do something. When I cook with pots and pans, I feel I am more committed to hovering over the stove, lest something burns. Even on a low simmer, I have burned food, such a rice. That's probably why I love that electric, nonstick rice cooker. Seriously, I absolutely love cooking and enjoy using various methods and gadgets. When I first heard of the raclette grill, I immediately thought of Korean barbeque. Funny thing is I have yet to try making Korean BBQ on the raclette. For that, we use our Lodge Hibachi grill outside.
The raclette is great for simple, everyday grilling inside. It also provides the best way ever to melt cheese. It melts evenly in the raclette pan and slides out onto your plate. Tonight, I used a queso blanco with green chiles. The cheese paired perfectly with the asparagus. After dinner, I rinsed and wiped the grill top with a soapy sponge. Rinsed again and placed it in the dish rack. Chef Mike gave me a knowing nod and we were done.