This summer's dinners are going to often be salads, especially now that we are growing our own lettuce and other veggies. This salad is prepared with a raclette grill and is based on a grilled salad we were introduced to over a Fourth of July celebration. The original salad featured veggies charred in a sauce pan. It's a little difficult to clean a charred pan and I don't like the burnt flavor.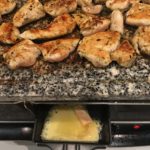 Instead, I put our raclette grill into action. The grill has a granite top as well as an aluminum nonstick grill top. For this, I pulled out the granite. Here are the ingredients and instructions.
Ingredients:
1 red pepper, sliced
1/4 red onion, sliced
1 bundle of asparagus, washed and trimmed*
a couple of slices of cheese (raclette cheese is an option)
1 package of chicken tenders
fresh lettuce (we culled some from our garden)
Directions: To "trim" the asparagus, hold a spear's end in between a thumb and index finder, and with the opposite hand, push down on the stem toward the flowery end with your other index finger. The spear will naturally snap at its break point. Discard the ends. Start the raclette grill. I put the granite top on medium-high heat. Once hot, spray with olive oil spray and place asparagus, onion slices and bell pepper slices on the grill top.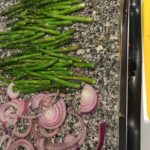 Turn your attention to the chicken. I bought a package of already cut chicken tenders to expedite dinner. I placed the chicken in a mixing bowl with a healthy sprinkle of Velata garden dill rub and a drizzle of olive oil. I hand tossed the chicken to evenly spread the oil and spice rub. As the vegetables finished grilling, I removed them and put them on a small platter. Once all the veggies were cleared off the grill top, I put the chicken pieces on. As the chicken browned on one side, I put the cheese in the raclette pans. Now, for the lettuce. We planted some from seeds and now the garden bed is full of lettuce heads. We better eat this lettuce like it's going out of style. I washed and dried it before putting it in a large salad bowl.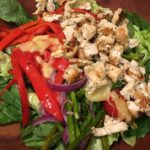 Then, add the grilled veggies. Once the chicken is cooked, add it to the salad bowl atop the veggies. Take the raclette pans and pour the melted cheese over the chicken. Salt and pepper to taste. Toss the salad with your favorite dressing. I used olive oil and cider vinegar. Serve in big pasta bowls. Enjoy!
Cheers,