Rice and beans, or beans and rice, are universally popular for several reasons. They provide whole grains (brown rice) and protein (beans). It doesn't take much to make them delicious, as just a little salt, butter and hot sauce can make the rice and beans come alive with flavor.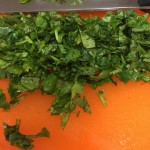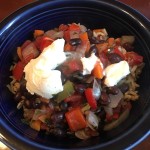 An added bonus is they are filling. Tonight is what my Mom calls a "make-do" night. Make do with what you have on hand. I had no intention of going to the supermarket because I was busy and did not feel like planning out the rest of the week's meals for grocery shopping. Instead, I opened the cupboard and saw several cans of black beans. I knew I also had a unopened bag of brown rice.
Turning my attention to the fridge crisper, I found the rest of the ingredients to place on the counter to get the meal going:
brown rice
can of Rotel
can of black beans
2 carrots
1/3 sweet onion
1 green pepper
1 red pepper
In one pot, I cooked the rice according to the bag's directions. Once covered, I moved onto pot in which the beans would cook. I started by sautéing chopped carrots first in olive oil because carrot takes the longest to cook. Next, I added chopped sweet onion. I covered that pot to let the onion and carrots soften together and in the meantime chopped the peppers and cilantro. Then, all the veggies we folded into the pot with the carrots and onion, and simmer on medium-low for about 10 minutes.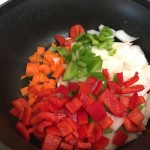 Finally, I stirred in the cilantro followed by the entire can of beans and the whole can of Rotel. I brought that pot to nearly a boil before dialing it back to low. I covered it and let that cook for another 10 minutes. To serve, I scooped a serving of rice into a bowl and spooned the beans mixture over it. The finishing touch was a dollop of sour cream. And, Tabasco. I cannot eat rice and beans without Tabasco. If you like, you can also top rice and beans with a fried egg. Honestly, this was so delicious that I had seconds. And, there are leftovers, which is always a good thing. While I love planning menus and trying new recipes, I take equal satisfaction in pulling together a healthy and satisfying meal on a "make-do" basis.
Come to think of it, the pantry is stocked for this very purpose. I always have a variety of canned beans (black, garbanzo, butter, kidney, cannellini and pinto) as well as dried beans and lentils. Canned tomatoes, plain and Rotel, are also staples. You also want to have onion and/or garlic on hand to make dinner savory. Other pantry staples include: tuna, chicken or vegetable broth, rice and pasta, crackers and soups. There are certain food pairs that just go together: peanut butter and jelly, tuna and crackers, grilled cheese and tomato soup, and, of course, rice and beans. Sometimes the best things in life are comfort food.
Cheers,