Wintertime calls for soup and my favorites are Italian with ditalini, a little tubular pasta that lets the soup base slide right through. Pasta e fagioli is a broth-based soup with vegetables and tomatoes, and the eponymous beans.
A typical bean for this dish is cannellini beans, a classic white bean that also goes well in soups with escarole. Tonight, I'm using cranberry beans, so named because of the cranberry-colored striping on these white beans and their pods. After they cook, these loose the cranberry color and appear a rouge beige color. They provide a wonderful consistency. Pasta e fagioli is a great Sunday dinner soup and a great dish for entertaining. I once served it for a football party and people could just ladle a cup or bowl as they wanted. Before I relate the recipe, here are the basic ingredients:
Garlic, onion, celery and carrot
Pancetta
Canned tomatoes
Canned or dried beans
Veggie, chicken or beef broth
Ditalini
Parsley
Grated Parmesan cheese
My father makes a fantastic pasta e fagioli, and I had thought he was following a cookbook recipe. Nope, he has it in his mind, so I took dictation from him once and labeled in my recipe binder as Pasta e Fagioli Off the Top of Dad's Head. Well, the proportions are flexible!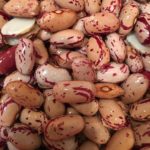 His basic recipe for a 15. oz can of beans had: 2 stalks of celery, 2 large carrots, half a big onion or a small onion and 2 to 3 cloves of garlic. He only used ¾ cup of tomatoes and 8 oz of pasta. Well, I was using a bag of dried beans tonight and realized I needed to roughly double the proportions:
1 bag of cranberry beans
2 #10-slices of pancetta
2 cloves garlic
half a red onion
six stalks of carrots
six carrots
2 28 oz. canned of diced tomatoes.
16 oz. of vegetable broth, 1 small can of chicken broth
An extra can of chicken broth is on hand, in case the beans absorb a lot of broth as they continue to cook.
Shaved parmesan
*16 oz. box of ditalini, but I'm only going to cook half in a separate pot of water.
Fresh parsley to chop and add to soup when serving.
*After the main soup is fully cooked. I will fold it into the pot of cooked pasta, ladle by ladle to the get the ratio right and then reserve the rest of the soup in the freezer. This soup freezes beautifully without pasta. Frozen and then defrosted pasta is just terrible.
Don't do it. Instructions: Dice pancetta and place in a hot Dutch oven. Brown. Add diced carrots and allow to soften and meld with the melted pancetta fat. Add diced onion, garlic and celery. Stir, cover and allow to simmer 10 minutes to soften together. Add tomatoes and stir in fresh ground black pepper. Under no circumstances should you add salt because the pancetta is salty! Cover again and simmer tomatoes and veggies for another 15 minutes. Add beans. (I used the so-called quick cook method for the beans so they still needed more cooking to soften up. If you just use canned beans, they only need to be in the soup for about 5-10 minutes to absorb some of the flavor of the broth. The ditalini are separately boiled in fresh water, drained and then stirred into the soup. Hence, pasta e fagioli. Ladle into individual bowls and sprinkle over grated Italian cheese and chopped fresh parsley. If you want a little heat, sprinkle red pepper flakes on and stir. Buon Appetito The Sage Leopard